I can't believe it's been a year since Pink lace + Glitter started. First, I am going to talk about how this blog started off and what the themes of the most popular posts are at this time.
I first thought of writing this blog after I watched the film
Julie & Julia
. I didn't think I would like the film but I did. After watching it, I began to set up Pink lace + Glitter. Originally, I wrote this blog in order to express my thoughts about and my journey into Lolita. Reading the introduction, the only thing that I may not have covered in it is about the struggles I have with being different. That is because I am not ready to talk about that yet. Maybe I never will be. But I did write about Lolita in most of my posts anyway.
Next, I am going to talk about my five most popular posts (according to Google Stats). They are:
My Favourite Print Theme in Lolita
,
Decorating your Lolita Inspired Holiday Party
,
Angelic Pretty's Candy Fun Fair series
,
Angelic Pretty's Fancy Paper Dolls
and
Angelic Pretty's Promenade de Paris
. Interesting how all the posts are either Lolita Blog Carnival ones (the first two) or brand print reviews. It could be due to the fact that this blog is only a year old and according to some blog experts, it could take a few years for a blog to get high traffic. Let's see what happens over the next 12 months.
Finally, to celebrate, I found this glittery wedding cake that would be nice to show as a virtual cake for Pink lace + Glitter's first birthday. Even though it is a wedding cake, I think it could be used as a birthday cake.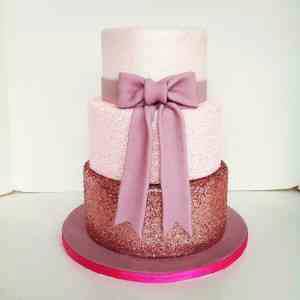 Above: Glitter wedding cake (Photo credit: Pearl Events)